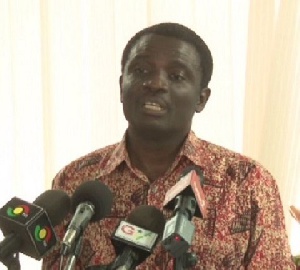 The National Tuberculosis Control Programme (NTP) under the Ghana Health Service has called for an enhanced TB care financing system within the Universal Health Coverage (UHC) policy and the "free TB care" policy to help patients of the disease reduce cost associated with treatment.
Currently, patients suffering from Tuberculosis (TB) incurred a median cost of 455 dollars per an episode due to both direct medical and non-medical costs such as consultation fees, diagnostic test, travels and accommodation. Further study also reveals that patients with Multiple-Drug Resistant TB (MDR-TB), incurred a significantly higher total cost of 659 dollars compared to those with Drug Susceptible TB (DS-TB).

This, according to the Programmes Manager, Dr Frank Bonsu has led to a huge proportion of TB patients living in poverty and below the general poverty line.

Speaking at an event to launch some findings by the NTP, Dr. Bonsu said it is important for the recommendations in the report to be adhered to so patients of TB can witness some relief, bring down cost of treatment and in the long term; a total eradication of the disease.

"Due to the high cost and economic hardship experienced by TB patients, most of them failed to go for treatment, while others developed resistance to their drugs, leading to further complications and social danger of spreading the disease. This was one of the major findings our study revealed.


We are therefore hopeful that this report will inform policy decisions, and spur on efforts towards the elimination of catastrophic costs for sufferers, as well as monitor progress towards the high-level "End TB Strategy target" by 2020", he said"

He further added that "We are also recommending some key interventions such as streamlining TB patient pathways by decentralising service, improving access to diagnosis, sputum transportation, engaging all providers, and innovative technologies for early detection and diagnosis."

"Enhancing of community-based services by linking with existing Health Workers Programme; systematic nutritional assessment and counselling for patients; providing free and fast track enrolment in the NHIS; expanding existing social protection schemes such as the Livelihood Empowerment Against Poverty (LEAP), and providing nutritional support to them according to their needs will also be very necessary if we want to win the fight against TB."

On their part, the World Health Organization commended Ghana for being committed to the "End TB Strategy target" by 2020 and being one of the first African countries to conduct a national survey and release a report.

The country representative, Dr Owen Laws Kaluwa said they were confident the report will help strengthen the nation's response with regards to the disease.