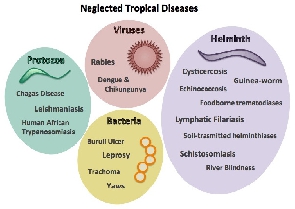 Sun, 26 Mar 2023 Source: GNA
Three non-governmental organizations have secured 180,000-euro funding support to implement a project to fight against Neglected Tropical Diseases (NTDs) in the Bono and Ahafo Regions.
They include the Global Media Foundation (GLOMeF), Tim Aid Africa Ghana (TAAG) and Indigenous Women Empowerment Network (IWEN).

 Anesvad Foundation, an international NGO which supports health and social development projects in Asia, Latin America and Africa is funding the implementation of the 24-month project in Asunafo North Municipal in Ahafo as well as the Sunyani West Municipality and Tain District of the Bono.

Titled: "community integration and system strengthening project against skin NTDs," the project aims at contributing to reducing morbidity, disability, and the psychosocial impacts of skin and NTDs in the implementing districts.

Mr Isaac Kwabena Kakpeibe, the Executive Director of TAAG disclosed this in an interview with the Ghana News Agency (GNA) on the sidelines of the launching of the project, held at Abesim, near Sunyani.

 It was attended by health workers, assembly members, partnering organisations and other civil society organisations and actors.
 Mr Kakpeibe explained the implementation of the project would use a people-centred integrated approach that would improve the quality of life of the most vulnerable people by fighting and preventing the most prevalent skin-NTDs such as Buruli ulcer, leprosy, yaws, and others.

He said without the support of the local communities, the project could not make significant outcomes and called for cooperation and support from assembly members, traditional authorities and other opinion leaders in the project implementation districts.

Mr Raphael Godlove Ahenu, the Chief Executive Officer of GLOMeF, indicated the beneficiary districts were selected on merit, saying NTDs remained a serious public health problem in the country which required the support of all to tackle.

Mr Ahenu said the project also needed the assistance of the media to increase awareness creation for people to understand the remote causes and immediate symptoms of the NTDs.     

He commended the funding organisation and expressed the hope that the district and municipal assemblies would support the project implementation to achieve desirable outcomes.
Source: GNA