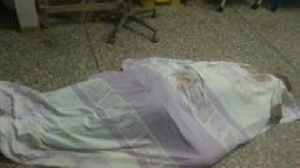 Mon, 6 Aug 2018 Source: The Publisher
A 19-year-old boy suspected to be addicted to Tramadol over the weekend met his untimely death when he fell from the fourth floor of a storey building at Asafo market in the Ashanti Region.
The unfortunate incident which happened on Saturday August 4, 2018 has thrown residents and traders in the area into a state of shock.

The deceased named Derrick together with his friends are said to have made the uncompleted storey building their abode.

A friend of the deceased speaking to journalist said the deceased who was reportedly high on Tramadol fell from the fourth storey building when he was coming down to buy medicine for his sick friend.

The body of the deceased has since been deposited at the mortuary awaiting autopsy.
Source: The Publisher