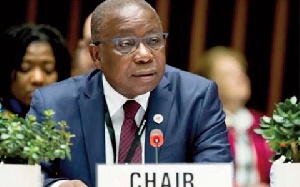 Ghana has successfully eliminated trachoma, thus, becoming the first sub-Saharan country to do so, according to the World Health Organisation (WHO).
The WHO has, therefore, presented a certificate to Ghana to that effect and congratulated the country on the feat.

Trachoma is a disease of the eye caused by infection with the bacterium Chlamydia trachomatis. It is known to be a public health problem in 41 countries, and is responsible for the blindness or visual impairment of about 1.9 million people.

The bacteria that cause the disease can be spread by both direct and indirect contact with an affected person's eyes or nose.
Speaking at the National Validation of Trachoma Elimination by the WHO in Accra on Tuesday, 7 August 2018, Minister of Health, Kwaku Agyeman-Manu urged Ghanaians to strive to maintain good hygiene to ensure the disease does not recur.

He said: "This level of achievement calls for jubilation on our part, however, let me caution that we cannot afford to go to sleep as one will naturally do after every success. We need to make a conscious effort to sustain the gains made, especially, our environmental improvement which is very key in keeping the disease at bay. There is the need for continuous awareness creation, sensitisation and education on sanitation and good hygiene."