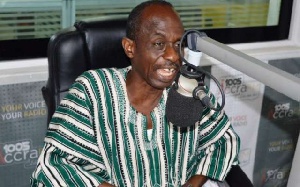 General Secretary of the main opposition National Democratic Congress (NDC) Johnson Asiedu Nketia, has said he cannot be blamed for the party's defeat in the 2016 polls.
According to General Mosquito, as he is known in political circles, the party always scored victory since he took charge and worked with a particular set of executives, until those executives were all voted out.

"If you pour gari in three different bowls and in the first you add sugar, in the second you add honey, and in the third you add Quinone, when you taste, will all taste alike? Each will taste different. Do you blame the gari for that? Asiedu Nketia is not the only reason for our defeat; in 2005 you elected me with only half of the party on our side, yet in three years we won the general elections. Only a few of those executives were changed at Congress because we worked together. We won the 2012 polls. Subsequently, we were dragged to court, and after eight months we still won."
"Then in 2014, you party delegates decided: All the executives who worked with me should be removed. You replaced them with new faces. We went to battle and got defeated. So, do you blame the General Secretary or the new executives you brought in?" he asked party supporters during his campaign trail.

Mr Asiedu Nketia is running for re-election.