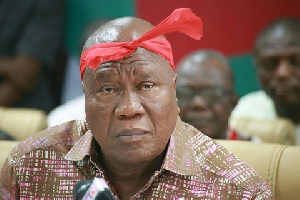 National Chairman of the biggest opposition National Democratic Congress party,(NDC), Mr Kofi Portuphy has warned its members to desist from vilifying other potential candidates against each other in its upcoming 2018 polls.
In a statement copied to the media, Mr Portuphy, said "the Functional Executive Committee (FEC) notice with extreme concern the tenor of some of these individuals in their public pronouncements. Equally, FEC notes with concern the conduct of some persons and groups affiliated to these aspirants at all levels.

We have observed that some potential aspirants and their followers have resorted to insults, and vilification of potential contestants. This abuse takes place, at times in a highly toxic manner on social media and sections of the media,"

The statement comes shortly after ten regional chairmen of the party endorsed the former President John Mahama for the 2020 election, even before the latter announces his intentions.

The ten regional chairman after a meeting on Thursday, November 9, 2017, issued a communique in which they also urged Mr. John Mahama, to embark on a "Thank you" tour of the country although belated, to thank party loyalists for their support during the December 2016 polls.

This comes barely a week after the former President told party supporters at the party's Unity Walk that a decision as to whether or not he would contest was immature, since it could affect the party's ongoing re-organisation agenda.

However, at the same Cape Coast unity walk event, the former President made comments that suggested that he is most likely to contest the race.
"He said, the FEC wishes to remind potential hopefuls, aspirants and their affiliates as well as party followers that such acts constitute 'anti-party conduct' and at the same time destroy the cohesive unity of the party. Such conduct seriously undermines the painstaking efforts by Council of Elders and the NEC to reorganize the party," the statement added.

"We also want to remind party faithful that, the internal electoral processes that allow members to engage in a campaign and other political activities had not yet been officially launched."

The former President had earlier stated in Cape Coast that, he was unperturbed about the opposition he is likely to face in the National Democratic Congress' (NDC) presidential primaries ahead of the 2020 general elections.

He said he has no problem with the candidates who have so far declared their intentions of leading the party in the next presidential election.

Individuals who have hinted of their intentions to contest in the primaries include former boss of the National Health Insurance Authority (NHIA), Sylvester Mensah, former Vice-Chancellor of the University for Professional Studies, Accra (UPSA), Prof. Joshua Alabi, former Trades and Industry Minister, Dr. Ekow Spio Garbrah, former Member of Parliament for La Dadekotopon Nii Amasah Namoale, Member of Parliament for Nadoli Kaleo, Alban Bagbin and Stephen Atubiga.