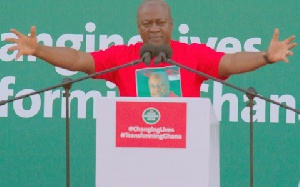 The National Democratic Congress (NDC) will perform abysmally in the 2020 presidential and parliamentary elections if former President John Dramani Mahama is elected as its presidential candidate, Mohammed Abass, a political science lecturer at the Kwame Nkrumah University of Science and Technology (KNUST) has said.
According to him, members of the NDC, and Ghanaians in general, have lost trust and confidence in Mr Mahama, therefore, it will be difficult for him to win a major election.

His comments come on the heels of a call on the former president to announce, without further delay, his decision to contest in the flag bearer race of the NDC.

The call was made by some former Metropolitan, Municipal and District Chief Executives (MMDCEs), at their maiden meeting in Accra on Saturday, 12 May 2018.

The MMDCEs, who were appointed under successive NDC governments, appealed to Mr Mahama to make an early declaration about his political intentions and also make himself available to serve the party and the nation.

This, they believe, will help the party to strategically position itself to snatch power from the governing New Patriotic Party (NPP), which, in their view, has been unable to "better the lot of the ordinary Ghanaian, and has engaged in wanton dissipation of state resources."

They made the call in a communiqué issued after their meeting. Mr Mahama has always postponed his announcement with reason that a premature declaration will throw the party's re-organisation programme out of gear.
Speaking in an interview with Accra News' Naa Atswei Oduro on Monday, 14 May, Mr Abass said: "I think the call on the former president by the former MMDCEs was needless because at the end of the day, it is the duty of the former president to decide whether or not he will contest."



"Mr Mahama needs to assess the situation on the ground before he makes the determination whether or not to contest. For me, those former MMDCEs who made the call did so in their own interest and not that of the former president or the party, especially because they were appointed by the Mills and Mahama administrations. They are clearly protecting their interest."

Mr Abass added: "The NDC will lose because Ghanaians have lost confidence in former President John Mahama. Even within his own party, the people have lost confidence in him, they accused him of causing their defeat in the last elections.



"If internally, your people has lost trust and confidence in you, and, also, externally, the people have also lost confidence in you, how on earth do you think you can win the next elections?"