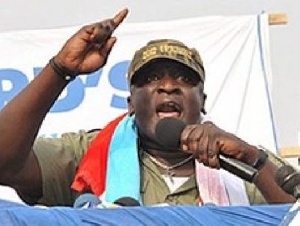 Anthony Abayifa Karbo, a Deputy Communications Director of the New Patriotic Party (NPP), has expressed disappointment in the Mahama administration for failing to honour their promises to Ghanaians.
According to Karbo, the NDC-Mahama government has only succeeded in crippling the economy after 8-year reign of the party.

He recounted that President John Dramani Mahama and his government made numerous promises and outlined several projects that the government would do to benefit the citizenry but he cannot be trusted any longer after failing on countless number of times.

To him, President Mahama has proven that he cannot salvage the economy.
Speaking on Peace FM's Kokrokoo, Karbo, who is also the party's Parliamentary Candidate for Lawra, alluded to Nana Addo's campaign promise of a dam in each village in the North which to him is feasible.

In his view, the NDC has cast doubts over the NPP flagbearer's promise because the ruling party has not been able to streamline the irrigation projects in the country as planned by the government.

Karbo appealed to Ghanaians not to extend the tenure of the President because "four more years of John Mahama will take this country into the early stages of democratic dictatorship."