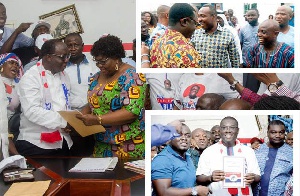 Acting Chairman of the ruling New Patriotic Party (NPP), Freddie W. Blay, yesterday picked his nomination forms to contest as the substantive National Chairman, as the deadline for the picking of forms closed in.
As at yesterday –the deadline – 42 aspirants had picked nomination forms to contest for various positions in the party's delegates' conference in Koforidua in the first week of July.

It was a sight to behold at the party's headquarters at Asylum Down in Accra as scores of enthusiastic delegates and party supporters, led by the Acting Chairman – who doubles as the 1st Vice Chairman – came to pick the forms.

After picking the forms, Mr. Blay, a lawyer by profession and former MP for Ellembelle in the Western Region, stood in the balcony of the NPP headquarters building and called for a clean campaign so that the party, and ultimately Ghana will be the beneficiary of the country's burgeoning democracy.

"We should be careful not to antagonize each other. We should be moderate in the way we are going to do our campaigns and make sure the NPP and Ghana are always considered first," he advised.

He said he had put in place a very solid campaign team and expressed optimism that the delegates would elect him as the substantive chairman.

Mr. Blay also acknowledged that the task ahead for the 2020 general elections is not an easy one; but said when he gets the nod, he will supervise a very effective campaign to get President Akufo-Addo re-elected, saying, "We did it in 2016 when we removed President Mahama and his NDC from office, and with the support of the rank and file, we are going to do it again."
He also expressed gratitude to the rank and file and the public for their support for the party and the government and pledged to work assiduously and in direct cooperation with the leadership and members of the party to ensure that the Akufo-Addo-led government is given the needed support and also made to retain power.

Mr. Blay turned his attention to the recent rift between the NPP and the media and gave the assurance that the party would not do anything to undermine the work of journalists.

"The media are our friends. I will constitute an executive body of the party that will continue to respect you, work with you and be your friend. We are sorry for what happened but we will ensure it will not occur again," he underscored.

Three other aspirants also picked their nomination forms yesterday.

Dr. Amoako Baah of the KNUST Political Science Department and David Amankwah Boadu, who are both vying for the position of National Chairman, as well as Michael Omari Wadie aspiring to become a Vice Chairman, were there.

The nomination process, which lasted for over a week, has been described as peaceful and well coordinated.
Both aspirants and supporters expressed satisfaction with the professional handling of the entire procedure and commended the election committee of the party for a good job done.

Submission of nomination forms by aspirants is slated for Tuesday, May 15th.

Party stalwarts had picked forms to contest for key positions, including Chairman, 1st, 2nd and 3rd Vice Chairpersons, Organizer, Secretary, Assistant Secretary, Women's Organizer, Youth Organizer, Treasurer and Nasara Coordinator.

Apart from Mr. Blay, who is aspiring to be the substantive Chairman, four other bigwigs -Alhaji Abubakar Abdul-Rahman aka Alhaji Short, who is immediate past Upper West Regional Chairman of the party; Stephen Ayesu Ntim, a former National Vice Chairman and longstanding contestant for the Chairman position; Dr. Amoako Baah, a lecturer and David Amankwah Boadu – are all eying the post.

Seven people namely, incumbent Fredrick Fredua Antoh, aka FF Antoh, Ken-Wud Noworsu, Agnes Chigabatia, Rita Talata Asobayire – a former National Women's Organiser – George Isaac Amoo, Vida Agyekum Acheampong and Michael Omari Wadie, are slugging it out for the 1st, 2nd and 3rd Vice Chairpersons.

John Boadu, the Acting General Secretary, who doubles as the incumbent National Organizer, appears to have his work cut out because he is going unopposed, subject to vetting.
For the position of National Treasurer, incumbent Kwabena Abankwah Yeboah will sort it out with Abraham Obeng Amoakohene, Nuhu Bayorbo Mahama, Mary Posch Oduro and Saida Ruka Ahmed.

The National Women's Organiser slot left behind by Gender, Children and Social Protection Minister Otiko Afisa Djaba will be a straight fight between Kate Gyamfua and Joyce Konokie Zemparie.

Incumbent National Youth Organizer, Sammi Awuku, aka 'Boys Abre,' has two other contenders like Nana Bediako and Sadik Nabichienga, for the position of National Organizer.

The National Youth Organizer, Dominic Kwesi Eduah aka Field Marshall; a deputy Youth Organizer, Henry Nana Boakye, aka Nana B; Kamal-Deen Abdulai, who is the incumbent Nasara Coordinator, Augustine Owusu Appiah, Bright Essilfie Kumi as well as Abdul Ganiyu Alhassan, are all campaigning to lead the NPP youth front.

Abubakari Sulemana, aka Lakulaku, a former Nasara Coordinator; Alhaji Rashid Adam; Alhaji Ahmed Zaruk Nuhu; Alhaji Shumbu Musah Shariff; Abdul Aziz Harunafuta of Accra Hearts of Oak FC fame, Baba Gado Ibrahim; Alhaji Salihu Yahaya Bo; Sulemana Alhassan Atakpo and Ali Suraj will battle it out for National Nasara Coordinator position.

At a recent news conference to outline the programme of activities leading to the congress, the NPP Acting General Secretary, John Boadu, had said that all prospective candidates were expected to fill their application forms accurately and submit them to the National Elections Committee not later than Tuesday, May 15.
"Any applicant who is dissatisfied with the vetting processes may appeal to the National Council of Elders within three (3) for immediate redress and the decision of the National Council of Elders shall be final," he said, stressing that any applicant who would refuse to use all the internal party mechanisms to address any disputes as prescribed by Article 4(6) of the party's constitution and rather go to court to seek redress would automatically be barred from taking part in the impending elections.

He had said that a five-member National Elections Committee comprising Rev (Prof) Samuel Asante-Antwi (chairman), Hackman Owusu-Agyemang, Madam Agnes Okudzeto (former national third vice chairperson), Ursula Owusu-Ekuful (MP for Ablekuma West) and Evans Nimako (acting director of research and elections), has been put in place to oversee the conduct of the national elections.

According to the acting general secretary, candidates aspiring to be national chairperson would pay a non-refundable application fee of GH¢10,000, vice chairperson position would attract GH¢8,000, general secretary would pay GH¢6,000 as application fee, national organiser and national treasurer would pay GH¢5,000, while youth organizer, women organizer and Nasara Coordinator would have to pay GH¢3,000.

The election has been rescheduled for July 7, 2018 in Koforidua.

It had earlier been fixed for June 17, 2018, which coincided with the celebration of the Muslim festival of Id-il- Fitri.