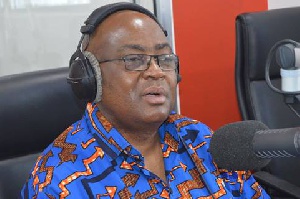 Pollster Ben Ephson has said the newly out-doored New Patriotic Party (NPP) campaign team could only be efficient in its role ahead of the 2016 elections if the party is able to surmount the disunity persisting in the Danquah-Busia-Dombo tradition.
He says irrespective of the supposed good campaign team advanced by the party for the all-important elections next year, their work will be fruitless if the tensions continue.

According to him, a troubled environment might not be helpful for the team to discharge its roles as expected by the party.

The flagbearer of the largest opposition New Patriotic Party (NPP)- Nana Addo Dankwa Akufo-Addo- on Saturday, September 19, 2015 at the party's Extraordinary delegates conference in Sunyani announced the NPP campaign team for the 2016 elections led by former chairman of the Party Peter Mac Manu.
Many have hailed the composition of the team which includes the likes of Okere legislator Dan Botwe – Campaign Strategist ,Boakye Agyarko – Policy Adviser, Ken ofori-Atta – Director of Fundraising Committee, assisted by Kwabena Abankwa Yeboah, National Treasurer, John Boadu – National Organiser and Head of Operations Directorate, assisted by Otiko Afisa Djaba (National Women's Organiser); Sammy Awuku (National Youth Organiser); and Kamal-Deen Abdulai (National Nasara Coordinator).

But the Managing Editor of the Daily Dispatch told Kasapa 102.3 FM what matters is the party's ability to unite for the challenge ahead.

"To say that there is no faction in the NPP is delusional, however the team no matter its quality cannot be efficient if there is disunity – I'm sure the effectiveness of the team will be seen more in the first quarter of 2016. Let's give ourselves some time and watch what they've got to offer"