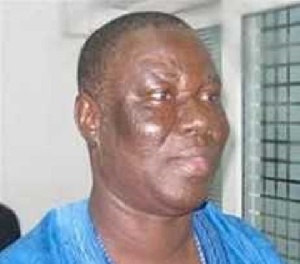 Mr Joe Gidisu, a leading member of the Abodakpi for Chairman campaign, has presented the nomination forms of the aspirant to the party and given an assurance that Mr Dan Abodakpi will heal the wounds in the National Democratic Congress (NDC) and galvanise the party for victory in 2020 and beyond.
He said Mr Abodakpi's entry into the race had become crucial because he was the best person who could address the apathy exhibited by party members which culminated in the defeat of the NDC at the hands of the New Patriotic Party (NPP) in the 2016 elections.

He said Mr Abodakpi had the capacity to heal the wounds and repair the various fragments created during the 2016 elections, reconnect the party to its grassroots members and rebrand it as an attractive party to the various groups that used to support the party.

Mr Gidisu indicated that though the 2020 election was paramount they were not only looking at that and that their candidate would steer the affairs of the party as chairman beyond the next elections.

He said the NDC had a lot of qualified persons for various positions, however, Mr Abodakpi stood out because he had served at the various positions in the party.

Forms

Mr Gidisu presented three sets of booklets signed by over 100 card bearing members in good standing, four pictures and banker's draft for Gh¢10,000. It was received by a member of the Elections Committee of the party, Mr Justice Afum.
Other leading members of the NDC who have expressed interest to contest the Chairmanship position in the November elections are Mr Samuel Ofosu-Ampofo, Mrs Betty Mould Iddrisu, Mr Daniel Annan and Alhaji Huudu Yahaya.

Hedo

Speaking to the Daily Graphic, the Campaign Coordinator, Mr Bill Boglo Hedo, said Mr Abodakpi cuts across all sections of the party and that his personality and work over the years presented him as the best person for the job.

He explained that unlike other candidates, Mr Abodakpi, a former Minister of Trade and Industry and MP for Keta, was a unifying force who was very close and conversant with all the blocks and groupings in the party.

He said Mr Abodakpi's vision was to heal, unite, reconnect and restore the party to its core values of integrity, probity and accountability and reconnect with its base which included teachers, nurses, fishermen, farmers, market women and traders.