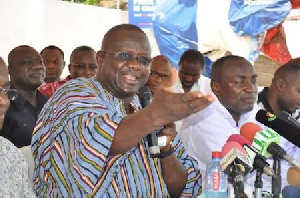 Pollster Ben Ephson has reiterated that the opposition New Patriotic Party (NPP) per the troubles within the party may impeach its two national executives, Paul Afoko and Kwabena Agyepong, by March next year.
"I won't be surprised if this thing continues, by the first three months of next year, Afoko/Kwabena Agyepong will be impeached. By March next year they will complete the signatures that are being collected and Afoko and Agyepong will be impeached."

There are currently petty squabbles within the NPP which have created bad publicity for the Dankwa-Busia-Dombo tradition.

The troubles are intensifying as a result of what is turning out to be mistrust among its national executives, with some alleging that the party's National Chairman and the General Secretary are clandestinely against the flagbearer's victory in the upcoming 2016 elections, hence are working tirelessly to bring him down.
However, the two beleaguered executives are pointing fingers at some elements within the party accusing them of scheming to create tension between them and other leading members of the party.

Speaking on Kasapa FM on Wednesday, Ephson predicted that the tensions will take different dimension alleging that the party is likely to put out some damning issues on Agyepong.

"I believe there are going to be some damning things on Kwabena Agyepong from within the party. I believe they have a strong case against him. It cannot be that if he's not done anything wrong, everybody will accuse him of doing something wrong," he reiterated.