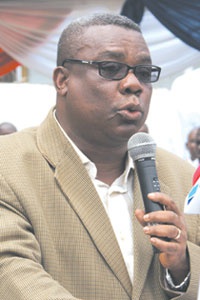 Former National Chairman of the New Patriotic Party (NPP) Peter Mac Manu has said the NPP National Chairman Paul Afoko and General Secretary Kwabena Agyepong are integral part of the party's campaign.
According to him, the two beleaguered party officials are currently involved in pre-election campaign activities such as the NPP's parliamentary primaries that are yet to be completed.

There have been calls by some senior party officials for Nana Akufo-Addo to sideline Chairman Afoko and General Secretary Kwabena Agyepong from the party's campaign team because the two are clandestinely working against the victory of Nana Addo in the impending 2016 elections which is likely to be his last time leading the NPP as flagbearer.

Founding Member of the NPP, Mr. Ayisi Boateng, has also urged Nana Addo to take his destiny into his own hands as the two are yet to demonstrate enough commitment and zeal needed to propel the NPP to victory. He added that Kwabena Agyepong and Paul Afoko can't be trusted to lead the affairs of the party moving forward.
However speaking to Fiifi Banson on Anopa Kasapa on Kasapa 102.3 FM Tuesday, Peter Mac Manu stated that the two officials cannot be left out of the party's campaign activities as their services cannot be disregarded, adding that such calls for the sidelining of the two are inappropriate and unfortunate.

"Unless people don't understand what campaign in politics is all about. campaigning is not only when you mount platforms and speak to a thick crowd of party supporters. We have pre-election campaign; election campaign and post-election campaign. Kwabena and Afoko are presently taking part in some of these processes.