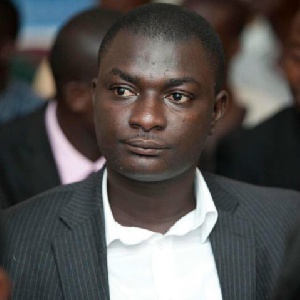 General Secretary of the opposition New Patriotic Party (NPP), Kwabena Agyepong, has vowed not to condone an illegality by attending any National Executive Committee (NEC) meeting so long as there is a writ barring the party from holding the said meeting, his Special Aide. Davis Opoku has said.
The NPP on Tuesday held its first National Executive Committee (NEC) meeting called by its Acting National Chairman, Freddy Blay; after the party suspended its embattled National Chairman Mr Paul Afoko.

Prior to yesterday's meeting, Mr Afoko called on the NEC members not to attend the meeting which he described as illegal.

Three members of the party have sued the NPP with the hope of getting the court to declare as unconstitutional, Freddie Blay's appointment and the meeting by the NEC.

However, the event was well attended with over 90 members showing up, disregarding Mr Afoko's call in the process.

NPP Presidential Candidate, Nana Akufo Addo, his running mate Alhaji Dr Bawumia and other party stalwarts all attended the meeting, but conspicuous absent was the General Secretary, Kwabena Agyepong.

Davis Opoku stressed that the NPP Chief Scribe will function effectively as the Chief Executive of the party but will on principle not be part if any activity that will be in violation of the law.
"The party's General Secretary is a law abiding person and will not contravene the law on any given day. He will discharge his duties as enshrined by the party's constitution. We all saw him speak on behalf of the NPP during last week's public forum on the voters register, and he'll function as such. What he's not going to do is to act in breach of the law. That will never happen."

Meanwhile, a deputy Communications Director of the NPP, Anthony Karbo has dismissed claims that the party has been sued, insisting that the NPP had not received any court summons.

"As far as I know, the party hasn't received any injunction whatsoever from whichever source. As far as I know, the NEC meeting was successful, no injunction was served at the meeting," he said.

"Our supporters across the country are very upbeat, and they are prepared for a leadership that will give us some direction so we can begin to execute the campaign to capture victory in 2016," he told Accra-based Citi FM.

Karbo further noted that the NPP is law abiding and will not act in disrepute of the court system of Ghana.

"Don't forget that we have very competent lawyers in NPP and I think we are the very last people that will undermine the courts. We are strong believers in the rule of law and democratic governance and will not undermine the law courts."