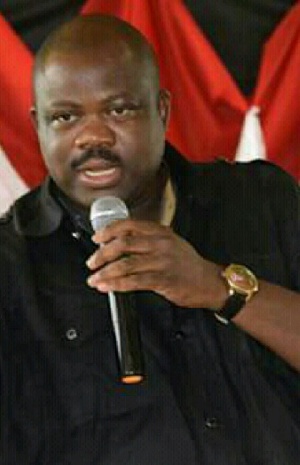 A Deputy National Organiser of the opposition National Democratic Congress (NDC), Joshua Akamba has lambasted Fadi Dabbousi, a sympathiser of the ruling New Patriotic Party (NPP) for describing the party's headquarters as a chop bar.
Mr. Dabbousi in an interview with Rainbow Radio 87.5Fm, described the NDC's headquarters as a chop bar where officials of state stole monies belonging to the state, and shared it among themselves.

He [Dabbousi] expressed an opinion that, people who have joined the NDC lack sense and logical reasoning because the party is filled with loose talkers, corrupt persons and incompetent people who only thrive on pettiness and negativity.

The fierce critic of former president Mahama, minced no words in attributing the controversial BOST contaminated fuel saga at the doorstep of the NDC. But responding to the comments by Fadi Dabbousi, Joshua Akamba described them as unfortunate.

According to him, although he does not know Dabbousi, he was not surprised of the comments because of his political colour.

He charged the author to assess the poor performance of the party and the hardship Ghanaians are going through, before attacking NDC's integrity. The campaign promises by Nana Addo he said, are falling flat on the face with families and friends managing the affairs of state.
Alleged corrupt cases has hit the government including the $2.25bn domestic bond issued by the Fiance Minister. The promise to scrap spare parts tax is hanging in the air and people are confused on what and how to scrap the tax; the killing of Adams Mahama is also hanging and so with these issues confronting the government, I will be surprised that Fadi has failed to look at that and describe our party office as a chop bar.

The NDC was founded on probity, accountability and transparency and these things the NPP lack. Nepotism, corruption, thievery and other negative things ongoing under the current administration but the NPP is talking about corruption. He should be ashamed of himself because the seat of government today is a haven for sharing looted money for state officials.

Joshua Akamba added, the threat by Kennedy Agyapong, Assin-Central MP, that he will expose how the NPP won the election, has confirmed his previous statement of an unfair win on the side of the NPP, in the 2016 presidential and parliamentary polls.

He challenged the NPP to take the NDC to court if they feel, the party office is a chop bar and was used to share looted state money.