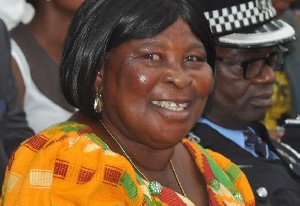 Founder and Leader of the Ghana Freedom Party is accusing President Akufo Addo of snubbing her during state functions.
According to Akua Donkor, President Akufo-Addo refused to invite her during his investiture as President of the Republic of Ghana on January.

She adds, the president again ensured that she was not allowed to attend Monday's Independence Day celebration in Accra.

Akua Donkor was speaking to host of Abusua Nkommo, Kwame Adinkra in response reports that she has not been seen at public functions since the inception of the government of the New Patriotic Party.

She said, "Kwame, Akufo Addo has never invited me to any public event since he became president. So it is not true that I attend such events and that the TV cameras do not capture me."

Donkor adds, "it is deliberate not to invite me because I don't agree with Akufo-Addo's political ideology."
"Even though they didn't invite me for the swearing in of Akufo-Addo, I made personal attempts to get my own accreditation from the protocol department and they frustrated me…they later told me my name was not captured in the list of dignitaries for the occasion," she added.

"Akufo-Addo hates me so much and it explains why eh makes sure I am not invited to important national events," she alleged.

The GFP leader adds, "this is not the first time they are snubbing me. He refused to invite me to the swearing, state of the nation address and now independence day celebration."

Akua Donkor has however indicated her preparedness to honour invitation to all national events if such invitation is extended to her.

But speaking in reaction, Deputy Chief Protocol Officer, Enoch Osei Mensah has flatly denied Akua Donkor's allegations.
Osei-Mensah explains, he has personally been ensuring that Akua Donkor is invited to all national events since th era of the previous government.

"Kwame, I will be disappointed if Akua Donkor says we have been deliberately snubbing her…I personally have been sending her invitations to all events since the time of president John Mahama," he explains.

"During the swearing in of President Akufo Addo, I remember she came to my office and I instructed my officers to make sure she was furnished with an accreditation tag."

"Later when I inquired as to whether she has been sorted, I was told she walked away and couldn't wait for teh accreditation tag to be processed for her," he added.