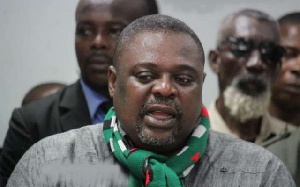 Deputy General Secretary of the ruling NDC, Koku Anyindoho has described flagbearer of the New Patriotic Party (NPP) Nana Akufo-Addo, as a presidential candidate who does not respect state institutions.
Speaking in an interview with GhanaPoliticsOnline.com on the upcoming National Commission for Civic Education (NCCE) debate which is schedule for 30th November ahead of the Dec polls, he said that President Mahama is an incumbent who subjects himself to examination and debate at every opportunity.

'He respects State Institutions. Akufo-Addo is an opposition leader who wants the mandate to rule the country but does not respect State Institutions. He does not respect the Police and Military that's why he imported South African mercenaries to train his private army and police. He does not respect the Electoral Commission so he sends his goons to insult Charlotte Osei; now he is snubbing the NCCE and GBC. Why should we give power to such a non-conformist rebel?' Koku Anyidoho asked.

The National Commission for Civic Education (NCCE) who are mandated to hold presidential debate has made it known to the public that they prepared and ready for the 30th November debate, but the opposition leader of the NPP has refused to be part of the NCCE debate.
According to koku Anyidoho, in the unlikely event that Nana Addo becomes President of Nkrumah's Ghana, the fact that he has no respect for the institutions he can't not uphold the institutions.

Koku then made reference to Kennedy Agyapong's recent attacks on the IGP, John Kudalor, which Akufo-Addo has not condemned yet and other factors as reasons why Akufo-Addo does not respect state institutions.