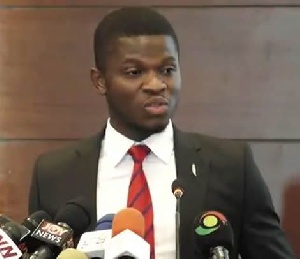 Newly elected National Communication Officer of the National Democratic Congress(NDC), Sammy Gyamfi has called on the public to disregard president Akufo Addo's claims the NDC will rot in opposition.
He says the president having realized that his government is gradually loosing favor with Ghanaians is desperate to throw shades at his political opponents to repair his gradually dying image.

Addressing the chiefs and people of Somanya on day one of his tour of the Eastern region, president Akufo Addo said the National Democratic Congress (NDC), in its desperation to come back to power to "create, loot and share", has resorted to propaganda and falsehood, adding that the biggest opposition party is doing so because it has realised it will spend a long time out of government.

According to President Akufo-Addo, NDC peddling falsehood about his government because "these are people [NDC] are looking at a long period in opposition", explaining that the more desperate the NDC gets, the more fabrications they will put out.

But in a response Gold Power Drive, Mr. Sammy Gyamfi said, '' the president was day-dreaming yesterday when he made that comment. I think that we should take that as a comic relief because everyone in Ghana today knows that there's a wind of change blowing and whether President Akufo Addo likes it or not he will be one-term president. His government is gradually going into extinction. His government will collapse by 2021 because Ghanaians will reject his government''.

'' I know that the NPP are good in talking but this not a matter of talking, it is a matter of what they promised the people of this country and what they have delivered so far whether or not they have been able to livelihood and living standard of Ghanaians, whether they have been able to keep the many mouth watering promises they made to Ghanaians, whether they have been able to make Ghana a heaven like they promised''.

Commenting on president Akufo Addo's assertion that the NDC want to return to power to "create, loot and share", Mr. Gyamfi says the President has with his claim opened his government to scrutiny adding that 'it is about time we subject our president to strict proof with some of these allegations that he's been making because our president is suffering from a credibility deficit which doesn't augur well for the credibility of himself, his government and the whole country.
''This is the very president who accused the NDC of printing presidential diaries at the cost of $1o million, he accused us of inflating the cost of the Ridge hospital, the Kasoa interchange project, the Kumasi Airport rehabilitation project, etc. Ghanaians on the bases of those lies voted for him into office. Two years into his administration, not a single evidence has been adduced by the president or his appointees to buttress any of those claims' .

His NPP government is now an epitome of a cook-house of corruption. They are the one's who are creating, looting and sharing the meager resources of Ghana,'' he stated

He cited but a few of the alleged corrupt cases that has characterized the two year Akufo Addo administration such as the National Lottery Authority scandal, the BOST contaminated fuel scandal, the Nyantakyi scandal, the Metro Mass scandal, the cash for seat scandal,etc to buttress his point.