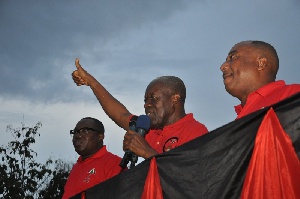 The NDC parliamentary candidate for the Abuakwa South constituency in the Eastern region Owuraku Amofa said "no Ghanaian should think of voting" for Akufo-Addo because "he will be the worst President for Ghana."
According to him, the National Democratic Congress (NDC) is for jobs, opportunities, developments, and stability hence must be kept in power to transform lives of the people.

He said the failure of the three-time opposition flagbearer Nana Akufo-Addo to transform his constituency during his tenure as a member of parliament, is indicative that he cannot run Ghana.

Mr. Amofa, a former deputy communication minister under the Rawlings regime, is a cousin to Nana Addo. He also served as a deputy Tourism minister before leaving government. He was the Member of Parliament for Abuakwa Central between 1992 and 1996. He defeated his own relative and entered parliament in 1992. It was during his time that various developmental projects transformed Kyebi. He extended electricity to Kyebi, he lobbied for the Kyebi Government hospital, constructed roads from Suhum to Kyebi among others.

"The kind of transformation Nana Addo brought we are all aware. Nothing to write home about. Instead of him maintaining what his relative had done, he destroyed them," Mr. Amofa said at a rally in Akyem Adukrom when the Vice President Kwesi Amissah-Arthur joined them in the constituency to campaign in the area.

He added: "He couldn't manage his own hometown, if he can't manage two thousand people how much more 27 million people. Ever since Nana became the leader of the NPP, there has never been peace in their camp. Suspension here and there. Is Nana telling us that he can't manage Kyebi and NPP? Come on, then there's no way he can manage this whole nation."
According to him, before Mr Akufo-Addo became MP for the constituency, there were several development projects – construction of hospitals, rural electrification among others undertaken by his predecessors, but he failed to add on.

He said: "Ever since Nana became the leader of the NPP, there has never been peace in their camp. [There have been] suspensions here and there. Is Nana telling us that he cannot manage Kyebi and NPP? Come on, then there's no way he can manage this whole nation."

He rallied the electorate to vote massively for President Mahama to keep him in power.

On his part, Vice President Amissah-Arthur encouraged Ghanaians to vote for Mahama, to continue with the good works he is doing for the country. He described as unprecedented the level of development realised under four years of the Mahama-government. He said a vote for Mahama is a vote for progress.