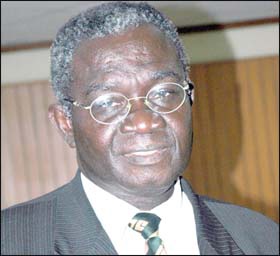 Sat, 12 Sep 2015 Source: peacefmonline
A leading member of the opposition NPP, Paul Collins Appiah-Ofori has called on party officials and supporters to end all camps within the party in order to go into the 2016 elections with a united front.
According to him, the internal wrangling in NPP could adversely affect the party in its bid to annex the presidency in the next general elections.

The former Member of Parliament for the Asikuma-Odoben-Brakwa constituency in the Central Region noted that – "It is unfortunate some people are against the party's flagbearer [Nana Addo Dankwa Akufo-Addo]"

Speaking on NEAT FM's morning show 'Ghana Montie' Paul Collins Appiah Ofori popularly known as 'P.C Appiah Ofori' pronounced that – "The NPP seems divided along the Alan Kyeremateng and Nana Addo camps. That is the party's worry now. This is rather the time for us [NPP family] to come together and support Nana Addo."

"…After Nana Addo's tenure, if Alan also becomes NPP's flagbearer, then the party will throw its support behind him," he added.

P.C Appiah Ofori comment comes after the party's council elders directed the disciplinary committee to suspend Mr. Afoko for allegedly violating the party's constitutional provisions.
Statement signed by the chairman of the Council of Elders CK Tedam and copied to the flag bearer of the party and former President John Kufuor said the conduct of Mr. Afoko is bringing the image of the party into disrepute.

Party's General Secretary, Kwabena Agyapong was not queried by the council, but many believed he and Paul Afoko are the cause of the party's internal wrangling.

P.C Ofori, however, told 'Ghana Montie' host Kwasi Aboagye that – "Those who support Alan just want to do something to destroy NPP.

Even the party's general secretary [Kwabena Agyapong] personally told me that he is for Alan not Nana."

"...He told me personally, I am not against that but I told him that, for now he must support Nana Addo to achieve the party's goal by letting Nana win the presidency in 2016," he advised
Source: peacefmonline