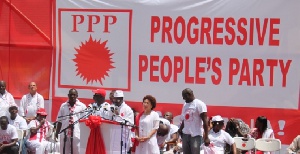 Executives of the Progressive People's Party in the Takoradi constituency of the Western Region are on a collision course with their parliamentary candidate who they have accused of embezzlement.
The disgruntled executives at a press conference Saturday claimed the aspiring MP, Isaac Collins Mensah, has embezzled funds meant for the party's political activities in the constituency. They have consequently suspended all political campaign activities of the party in the constituency; something that is likely to affect the fortunes of the PPP in the area with barely 23 days to the December 7 general elections.

The decision was announced by Emmanuel Amoah Eshun, a member of the Progressive Voices – a group of PPP Communicators – in the Takoradi Constituency on behalf the executives.

The executives noted the decision though painful, has been necessitated by a myriad of issues including what they described as "gross embezzlement of funds" by the parliamentary candidate. According to them, all efforts to get the national and regional executives to compel Mr Mensah to account for monies he has received from the national headquarters in Accra have proved unsuccessful.
They said the issue; among others including the lack of a constituency office for the party in the Takoradi constituency has been a setback for them especially in the execution of their campaign activities.

They also accused their parliamentary candidate of sidelining the constituency executives in various party activities in the constituency. They thus want the issues addressed immediately failure of which would affect the party negatively in the elections on December 7