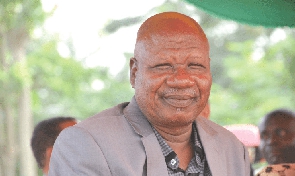 The decision by the opposition National Democratic Congress to suspend its former Central Regional Chairman, Bernard Allotey Jacobs has sparked a lot of controversies among Ghanaians.
The NDC in a statement on Wednesday announced that it has suspended its former Central Regional Chairman over what it termed as 'anti-party conduct'.

Some members of the NDC have complained over the utterances of their fellow party members on radio and television platforms since he lost his executive position.

Commenting on the issue, the former National Communications Officer of the NDC, Solomon Nkansah has vehemently stated that the suspension of Allotey Jacobs by the NDC was long overdue.

In an interview with Kwaku Dawuro on Accra base Kingdom FM, the free speaking and controversial politician indicted that, the party took the right decision hence good for the party's discipline.

He said, "Such decision and actions will make the party NDC as a political party, NDC was a social club in the past."
Explaining further, he revealed that, "some members of the party do not adhere to the rules and regulation of the party."

"The leaders of the NDC have now come to the realization that members of the party ought to be discipline as a political party because the party needs to be clean in order to ensure uniformity", he stressed.

He, therefore, called on the leaders of the opposition party to "do an environmental scanning in order to weigh in all our weigh ward party members."

Solomon Nkansah believes that such measures and effort will ensure the progress, success and the smooth running of the party, hence enrich the party.