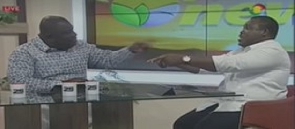 The Member of Parliament for Mpraeso, Davis Ansah Opoku, clashed with his colleague MP for Ningo Prampram, Sam Nartey George, over the former's description of the management of Ghana's economy by Vice President Mahamudu Bawumia and Finance Minister Ken Ofori-Atta as "useless."
Speaking in a TV3 interview monitored by GhanaWeb on Monday, February 6, 2023, Sam Geroge berated the Nana Addo Dankwa Akufo-Addo government over its Domestic Debt Exchange Programme (DDEP).

He said that the government, which has caused the current hardship in the country, is "arrogantly" forcing the DDEP program on ordinary Ghanaians, which will worsen their plight.

He added that but for the poor management of Vice President Mahamudu Bawumia and Finance Minister Ken Ofori-Atta, Ghana would not need the debt exchange program.

"… this debt exchange program is because of how useless you have been as finance minister. If our finance minister and Bawumia, the head of the Economic Management Team, have been useful in the job that we pay them to do, we wouldn't need a debt exchange program," the Ningo Prampram MP said.

But the description of Bawumia's management of the economy as useless did not sit well with Davis Ansah Opoku.
The Mpraeso MP told Sam George to show Vice President Bawumia some respect.

"Show some little respect; you are talking about the vice president. You as a Member of Parliament, if somebody describes you as useless, will you be happy with it," he questioned Sam George.

Sam George retorted: "If I have been useless and they describe me, (so be it)".

Sam George went on to say that he is just describing the vice president's performance and that he is not insulting him, saying, "You people have a problem with English and comprehension."

Ansah Opoku, who was getting infuriated, said: "How do you describe the vice president (as useless). Are you more important than the vice president?"
Watch the clash in the video below:



IB/BOG