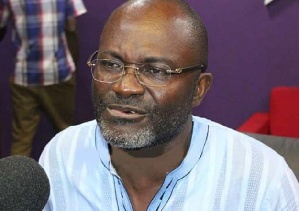 Controversial politician and legislator for Assin Central in the Central region, Kennedy Ohene Agyepong has touted Deputy Communications Director of the New Patriotic Party (NPP) Anthony Abayifa Karbo as a ministerial material.
He insists Karbo who is the NPP Parliamentary Candidate for Lawra in the Upper West region, must be made a minister to serve in the government of Nana Addo Dankwah Akufo-Addo at all cost should the party emerge victorious at the December 7 polls.

The outspoken Member of Parliament (MP) observed that the candidate has over the period dedicate his service to the party at various levels and must therefore be rewarded with a ministerial position to compensate for his efforts.unity-walk-banner2Speaking at the Lawra constituency campaign launch over the weekend, he urged residents to vote massively for Karbo and the NPP to develop Lawra and Ghana to an appreciable level and enhance the living conditions of Ghanaians.
"I assure if you vote for NPP MPs from Lawra and Nandom, they will both be made Ministers under an Akufo-Addo Presidency. When you voted for Sampson as MP, he was not given any position by President Mahama, the Regional Minister who is from this area was also dismissed. But if you look at Anthony Karbo, the kind of work he's done for the NPP, I assure you, there's no way that he'll not be made a minister when Nana Akufo-Addo wins power. If Nana Akufo fails to make Karbo a minister when he becomes President, I will lead an agitation against him and will not make him comfortable. Be proud of yourselves that you have somebody like Karbo when he sits on radio and debates on behalf of the party; I say…that's my man. You need a solid man to lead you."

Anthony Karbo is contesting for the Lawra seat for the second time after he lost to the NDC's Sampson Abu during the 2012 election.