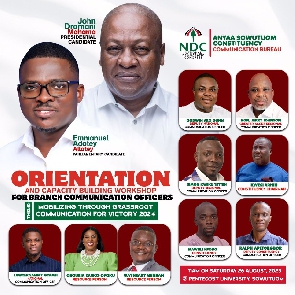 The Anyaa Sowutuom Constituency of the National Democratic Congress (NDC) will hold an orientation and capacity-building workshop for its communication officers at the Pentecost University.
Slated for Saturday, August 26, 2023, the event will be graced by the National Communication Officer, Sammy Gyamfi; the Deputy National Communication Officer, Godwin Ako Gunn; a communication specialist, Gayheart Mensah; the National Deputy Communication Director of the NDC, Obuobia Darko-Opoku; the Regional Communication Officer, Jerry Johnson; and his deputy, Simon Tetteh.

The Anyaa Sowutuom parliamentary candidate of the National Democratic Congress (NDC), Emmanuel Adotey Allotey, will also be in attendance.

The theme for the occasion is "Mobilizing through Grassroot Communication for Victory 2024."

A press statement signed in Accra on Friday, August 25, 2023, signed by the NDC's Deputy Constituency Communication Officer for Anyaa Sowutuom, Ralph Apetorgbor, said that the objective of the workshop is to enable the branch communicators to engage effectively in conversation and become effective communicators.

"The participants will also have the requisite knowledge and skills in constructive political discourse, debating skills, and ethical campaigning in readiness for the 2024 presidential and parliamentary elections," he said.
Apetorgbor stated that the workshop will therefore feature a diverse range of activities, interactive sessions, and practical training exercises focused on enhancing the grassroots and social media communication skills of all participants and serial callers rudiments.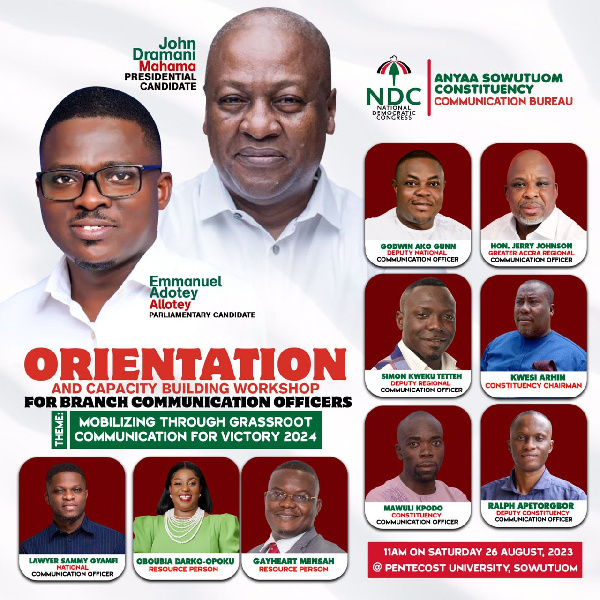 Ghana's leading digital news platform, GhanaWeb, in conjunction with the Korle-Bu Teaching Hospital, is embarking on an aggressive campaign which is geared towards ensuring that parliament passes comprehensive legislation to guide organ harvesting, organ donation, and organ transplantation in the country.

Meanwhile, watch Etsey Atisu's interview with Fati Ali, the first female GIJ SRC president, on #SayItLoud on GhanaWeb TV, below:




You can also watch the latest episode of Everyday People on GhanaWeb TV below:





AE/SEA