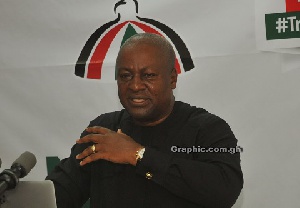 Former President John Dramani Mahama has dared the New Patriotic Party (NPP) government to arrest him or any other member of the main opposition National Democratic Congress (NDC) who visits any Senior High School (SHS) in the country to campaign.
This follows a police invitation to NDC National Organiser hopeful, Joshua Hamidu Akamba, for allegedly campaigning and inciting students of the Tempane SHS in the Upper East Region against the ruling party.

The Headmaster of the Tempane SHS, Dominic Ndegu Amolale, has also been interdicted pending investigations into the incident.

Addressing delegates in Garu in the Upper East Region, Mr. Mahama urged the government to fix the problems in the high schools and stop intimidating political opponents.

He said: "I remember when NDC was in government, NDC is a tolerant party and we believe in democracy and we don't see why we should hinder anybody from speaking the truth.


"So, if Akamba did not go to the school, does it mean the school is not congested? Does it mean bedbugs are not chewing the children? They are, and so what he did was to bring it to the attention of the government, and so what you should do is, rather than invite Akamba and interdict the headmaster, do something about the conditions in the school.

"When we were in government, many NPP officials went to the schools and openly campaigned and yet we didn't find anything wrong with it. We didn't do anything, we didn't interdict headmasters and the point is, if we want, all of us can go to those schools [so that you] come and arrest all NDC members. If we want, I can go to a school, come and arrest me. Do something about the condition in the school and stop intimidating headmasters and stop inviting political opponents for investigations."