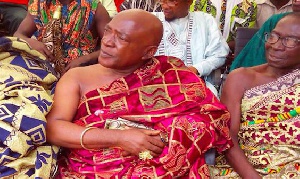 The chief of Breman in Ashanti Region, Nana Kotey Kutrin Asraman II, has endorsed President John Dramani Mahama's bid for a second term.
According to him, President Mahama has brought to his traditional area, a number of laudable development projects and therefore needs to be given a second term.

The chief announced the endorsement when President Mahama visited Suame magazine on the final day of his 4-day campaign tour in Ashanti region.

The traditional leader said it was under the Mahama-led government that the area has enjoyed infrastructural development, and called on Ghanaians to vote massively for the President on December 7.

He observed the President has achieved a lot in his first term of office in spite of the numerous challenges he faced. "Let's consider the many projects undertake by the President Mahama administration.

All these were achieved in just three and half years because just when he took over, he was backtracked by litigation," he said The chief added, "We all know how restless one can become with litigation, but this man [President Mahama] with all the stress has achieved all these in three years".
Nana Asraman said it is important that Ghanaians give him another four-year term to so that they can after that tenure compare his government with that of the NPP. "Why don't we give him another term? I'd wish we give him another four years then new can compare.

In fact, we might even get to know that his three years of being in office might outweigh the 8 years of others. He said his request to Ghanaians to vote for President Mahama is for the good of the country, saying, "I am sharing this because I want Ghana to develop".

Nana Asraman also urged on the electorates in the Suame Constituency to vote massively for NDC parliamentary candidate for Suame, Brogya Genfi, since he is a true son of area. President Mahama in his address described himself as a responsible leader who bites the bullet to solve nation's biggest problems.

He promised to put up Polyclinic in Suame magazine in his second term. President Mahama toured a number of constituencies in the region preaching his changing lives and transforming Ghana agenda to woo the electorates to renew his mandate for a second term.