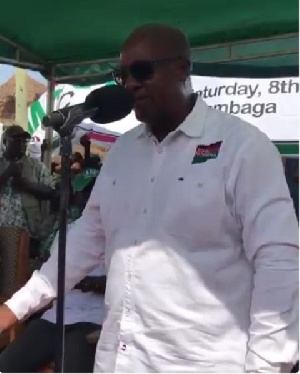 A deputy coordinator of the National Disaster Management Organisation (NADMO), Joseph Yamin, has indicated that the people of Ashanti Region will vote massively for President John Dramani Mahama come Wednesday to demonstrate their gratitude to the first gentleman of the land.
He explained that his decision was informed by the gigantic infrastructure projects the region has witnessed under this current government, touting that it has never occurred in under any government.

According to Yamin on Adom TV's Badwam on Monday 5th December 5, 2016, though the NDC did not get much vote from the region in 2012 and years past, he believes the roads, expansion of the airport, schools and the ongoing hospitals will earn President John Mahama more votes as gratitude for not neglecting them.

He was sure that they will vote for him to complete the six ongoing hospitals at various stages of completion as well as the second phases of the airport and the Kejetia market which will become the largest market center in the whole of West Africa.
"Even this morning, the President will be commissioning the first phase of the Kejetia market and also cut sod for the second phases of the market and airport for bigger planes to land and fly directly to their destination", he observed, adding that the completion will create employment opportunities for the unemployed.

Yamin, was confident the needs of the people are what is being created by the President and thus the grounds were yearning for December 7th to come early for them to vote for massively.