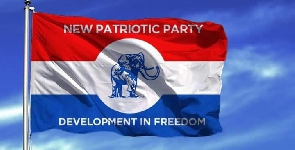 Sat, 1 Jul 2023 Source: Antwi Boasiako John, Contributor
Following the defeat of the New Patriotic Party in the Assin North by-elections, the Bono East Regional Chairman of the party, Ibrahim Baba Bukhari has urged party members to unite and remain focused.
He said it would be in the best interest of the party if ranks and files within the NPP fraternity can exercise decorum after this loss.

Baba Bukhari described the Assin North by-elections as novel and has its own demographical analysis.

He, therefore, called on Academia in the party to do a comprehensive research on the outcome and proffer pragmatic ways to improve the party's performance in similar situations.

"I stand to be corrected, but I think this is the first time in history, for an immediate former member of Parliament to retain his or her seat in a such polls," he said.

"I will suggest to researchers in the country to do a thorough review of the election and give it a suitable name in the history books because this wasn't just any by-elections as witnessed before," he added.
Ibrahim Baba Bukhari in an interview with OTEC News on Friday, June 30, 2023, said this was no time for blame games, adding that apportioning blames will unnecessarily distract the party from learning a great deal of lessons from the defeat.

He has therefore urged the leadership of the party to treat this by-election as a wake-up call for 2024 general polls.

"I personally views this outcome of the by-election as a wake-up call"

This unexpected defeat must prompt the party to evaluate its approach, make rational retrospective assessments and conduct thorough analysis"

"I know doing this will strengthen the party and prepare us well for future competitions," he stated.
Source: Antwi Boasiako John, Contributor