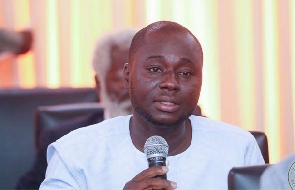 The People's National Convention (PNC) has reiterated that Atik Mohammed remains suspended as the General Secretary of the Party.
According to the PNC, the decision to suspend Mr Mohammed was taken at a National Executive Committee meeting of the party following "widespread complaints of his incompetence and his disregard for his official duties" and since that suspension has not be reviewed by the party "he still stands suspended."

The PNC in a statement signed by its acting General Secretary Jacob Amoako noted that it has been forced to reiterated Mr Mohammed's suspension because the media and some other organisations and institutions for unknown reasons continue to engage, describe and acknowledge him as the General Secretary of the PNC.
The Party is, thus, appealing to the Ghanaian public not to accord Mr Mohammed any courtesies bordering the position of the General Secretary of the PNC.

"The PNC is very much capable of conducting its administrative and operational duties without Atik Mohammed if the media deems it appropriate to work with the party instead of with individual members who aren't committed to the course of the Party," the statement said.