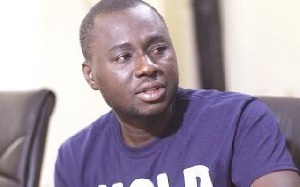 The People's National Convention[PNC] suspension handed to embattled General Secretary, Atik Mohammed has been challenged as ultra vires by Lawyer for the latter.
"The purported actions were/are absolutely not in compliance with the PNC constitution and due process, "Mr Samson Lardy Anyenini of A-partners@Law in a letter to the PNC on behalf of his client said.

The party is therefore accused of overstepping its boundaries in its decision to suspend his client.

The opposition party-PNC lately passed a vote of no confidence in him[Atik] and suspended him indefinitely for what the party says is misconduct on the part the General Secretary.
The action was taken at its extraordinary National Executive Council meeting held on July 22.

But Atik's Lawyer in a letter sent to the PNC dated Tuesday August 8, noted that the action against his client is completely alien to the PNC Constitution and due process of the law generally.

He adds: "Consequently, the purported actions were/are not only ultra vires on two separate levels, but such an egregious assault of the PNC Constitution, due process, good conscience and our clients rights that same cannot be given any regard whatsoever by our client."