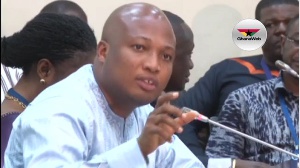 The minority's spokesperson on foreign affairs Mr. Samuel Okudzeto Ablakwa has stated that it will be prudent for the embattled Ghana's Commissioner to South Africa, Mr. Ayisi Boateng to be reassigned to the NPP's office rather than keep his job.
Speaking to Accra based Joy FM, the Member of Parliament for North Tongu constituency maintained that the apology from the high commissioner is not enough.

He explained that Mr. Ayisi Boateng who has been a patron of TESCON for years has helped the party in so many ways as such locating him to the Headquarters of the party will be better.

The Ghanaians in South Africa are saying they don't want you back in South Africa, that is why we are saying that he should resign for failing or the president should reassign him somewhere else. We are told that he is a very good party man so he could be reassigned within a party to play a party role. He noted

Speaking to members of the Tertiary branch of the party, Tertiary Students Confederacy Network (TESCON) at the campus of Kumasi Technical University, High Commissioner, Ayisi among other things stated that his priority is the members of the ruling government before any Ghanaian.

His comment sparked wide condemnation compelling the president summon him to Flagstaff House to render an unqualified apology to Ghanaians.
In a statement on Wednesday, Mr. Boateng said "I have, upon sober reflection, decided to retract the comments I made during my interaction with some Members of the New Patriotic Party (NPP) in the Ashanti Region over the weekend.

"I have realised that my statement is unfortunate and at variance with the letter and spirit of the Ghanaian constitution and the dignified office of High Commissioner that I occupy.

"I am aware that as the representative of Ghana to South Africa, I have a responsibility to protect the interest of all Ghanaians within my jurisdiction and to grant them equal access to opportunities that are presented, irrespective of their political affiliation.

"I regret the effect of my speech delivered to the young party members which has generated public outcry."