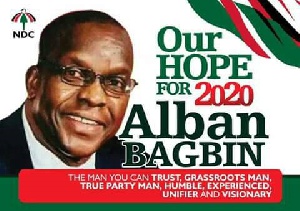 Ahead of the opposition National Democratic Congress (NDC) opening nominations for its Presidential primary in November, Mr Alban Kingsford Sumana Bagbin keeps deepening his sway in the party.
Consequently, there are plans by many individuals to contribute to the process of getting him elected as leader, and the support system has began falling into place.

Across the country, fan clubs for the Second Deputy Speaker of Parliament have began forming, with names such as 'Friends of Alban Bagbin,' 'Amanfuor for Bagbin,' 'Foot soldiers for Bagbin,' and 'Alban Bagbin Fan Club' hinting into place.

"I am doing this because I believe that we have a very good chance of winning power from the NPP in 2020, but we will win if we present the best contrast to President Akufo-Addo and Hon. Bagbin is the most outstanding personality in this regard," Emmanuel Ghansah, who is the brain behind 'Friends for Bagbin' in the Western region said.

In the Volta Region, Daniel Baccah is forming Alban Bagbin 'Fan Club' while Emmanuel Adjetey Adjei is forming 'Amanfuor for Bagbin' in Tema.

Their aim is to use the fan clubs as rallying points for many in the NDC who believe that the party has its most strategic Presidential material for 2020 in Alban Bagbin.
The Nadowli Kaleo MP's image as an incorruptible man has made him a leading contender for the party's flagbearership and comparatively, a better candidate.

"Nobody says that former President Mahama is not a good Presidential material, no! What we are saying is that 2020 is a very fertile chance that our party has to win the election because of President Akufo-Addo's notoriety for corruption.

"To accentuate the NPP's image, we need a candidate from our side whose image is squeaky clean and the election will be a one touch victory.

Mr Baccah said, Special Prosecutor, Martin Amidu would also use his position to help tag Mahama as a corrupt flagbearer if he is elected because, "Martin does not hate NDC, but the former President"