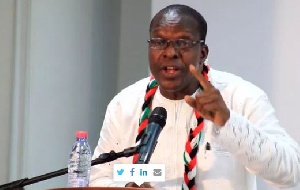 Some leading members of the opposition National Democratic Congress (NDC) in Ashaiman have declared their support for Second Deputy Speaker of Parliament, Mr Alban Sumana Kingsford Bagbin, in the flagbearership contest of the party.
Their support, they said would position them to ensure that they were on the winning side of the race.

Speaking in separate interviews with the Ghana News Agency at the sidelines a programme at Ashaiman on the chances of the Deputy Speaker, they explained that, the Nadowli Kaleo MP was the best person to bet on in the race as he had the heart of the majority of delegates on the ground, with providence on his side.

"Mr Bagbin has never lost any election before, since he became a politician in the Fourth Republic of our country. He stood for seven Parliamentary primaries and won seven Parliamentary primaries. He also stood for seven Parliamentary elections and won all of them.

"He knows no defeat and he is not about to start with the 2020 Presidential primary," Mr. Daniel Baccah, a leading member of the NDC said.

According to him, just like Bagbin smoothly won seven consecutive Parliamentary primaries and seven consecutive Parliamentary elections in Nadowli Kaleo, he would do the same in the NDC's 2020 Presidential primary, and subsequently the 2020 Presidential election itself.
He said Bagbin's winning streak from the Parliamentary level was the ominous part of the coming victory, Mr Baccah said. "I can tell you that on the grounds in Ashaiman for instance, more than 60 per cent of the delegates are for Bagbin.

"The first reason Bagbin is on top is, because of his message; what the NDC needs to win 2020 is not new supporters and members, what we need is to attract back the close to one million voters who refused to vote in 2016. When we bring them back on board, the NDC will easily win 2020.

"And the way to bring them back on board is what Bagbin is doing – he is promising that people who have sacrificed for the NDC over the years, but have been neglected will be catered for. That is what we need to hear and that is why we are all for Bagbin," Daniel Baccah said.

"It is the delegates that are mostly on the ground in the party. I can tell you that the delegates are not happy at all about how former President Mahama concentrates on attacking President Akufo-Addo and Bawumia, without telling us anything concrete about what he will do to reward our sacrifices," Mr. Baccah said.

He said Ashaiman is in love with Mr Bagbin and would vote massively for him because of the man's candour and his peace building position in the party which made him close to the party's Founder and its elders.
Meanwhile Mr Ashitey Korblah, another leading member of the NDC in Ashaiman has pointed out that as a governance expert; Mr Bagbin has consulted for many great people and political institutions around the world, including former Nigerian President, Goodluck Jonathan's People's Democratic Party (PDP).

Through his stature in Parliament, which saw him serve on Legislative bodies on the continental and international level, he said, Mr Bagbin could also attract such a financial muscle that many people think that only Mahama can attract.

"This is Bagbin we are talking about here, he has never lost election before.'

He added that Mr Bagbin was the obvious choice to put the NDC's foot forward in 2020, both spiritually and materially.

"So far, all the signs show that Bagbin will win. His streak of seven straight wins will extend to eight by the time we finish the flagbearership election."