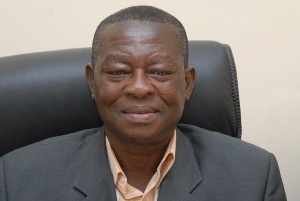 A former National Organizer of the opposition National Democratic Congress (NDC), Yaw Boateng Gyan the conduct of the current crop of national executives which is inimical to the party's growth should not be blamed on them.
He wants the chunk of the blame put on the party's delegates making up of branch, constituency, regional and national executives who converged at congress in Kumasi and voted for them.

"The branch, constituency, regional and national executives should be the ones to be blamed.

They elected them because they had been compromised. The person who has saved a life should not be treated with disdain but this was the kind of treatment meted out to us. In today's politics if someone parts with something small, then the mind of the person begins to change.

God himself does not come on earth to help human beings but through human beings. If someone helps you to achieve something and the person is not treated well, God himself sometimes gets angry", he said.

He warned that if measures are not immediately put in place to address the current divisions in the party a more disastrous defeat awaits the part indicating that prior to the December polls the divisions that existed in the party were more pronounced that the NPP.
"The NDC was much more divided than the NPP but we pretended as if all well and decided that talk about the NPP's troubles.

People who dared to talk publicly about the party's challenges were vilified and sidelined, how were we going to hear diverging opinions internally, If we had paid attention to what people, our own party people were saying, I am telling you the NDC wouldn't have been in position by now.

The other issue has to do with the way and manner our people were talking to the electorates…very arrogant and disrespectful, how would we have appealed to the voters.

Some of us couldn't talk because they said we have been voted out of the executive position of the party and so we shouldn't talk…a lot of things went wrong," he said.