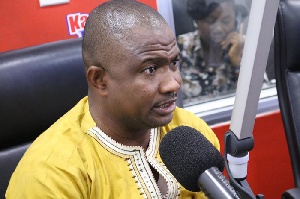 National Communications Director for the National Democratic Congress (NDC), Solomon Nkansah has called on the leadership of the 'Umbrella' family to cease from discussing issues that are meant to "disgrace" the party.
Speaking on NEAT FM's morning show dubbed 'Ghana Montie', Solomon Nkansah counseled that the party must rather start preparations to unseat the ruling NPP in election 2020.

To him, the image of the party must be saved - he also called for unity in the party after admitting the party is indeed 'broken'.

"Our party is now in crisis but we must also try as much as we can as party members, to protect the image of the party since we have election 2020 ahead of us. The media must help us [NDC]," he told host Kwesi Aboagye.

The NDC Election Review Committee (ERC) about 2weeks ago issued a statement noting with some regret that a number of Party functionaries and leading party members have lately take to media houses to air their views on party matters, including matters that the Committee was set up to investigate; namely the causes of the party's electoral defeat.
"The Committee would like to urge party members to resist the temptation to engaging in recriminations and finger pointing, so as not to undermine the integrity of the committee's final report and recommendations, sour the atmosphere for the conduct of the committee's work.

"The committee's doors are open and we urge all party members who have issues to raise or concerns to express to direct them to the committee to help the search for solutions to the challenges confronting the party," the statement read.

The NDC National Executive Committe has also done same, asking party faithfuls to remain calm till the Prof. Kwesi Botcwey committee comes out.