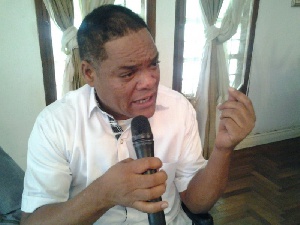 The Convention People's Party (CPP) in the Ayawaso Central constituency of the Greater Accra Region has kicked against the alleged imposition of an individual as its parliamentary candidate.
Branch executives of the party, led by chairman Yaw Asani Tano, in a press release titled 'Impostors in Our Midst', said one Raymond Gye Nyame was "parading within the constituency as parliamentary candidate on the ticket of the Convention People's Party without the knowledge of the chairman of the constituency and majority of the constituency executives".

The move, the executives said, smacked of "disrespect" for party rules and regulations. They accused the Greater Accra regional chair of masterminding the move.

"This clandestine development has been made possible through the corrupt activities of some of the Greater Accra regional executives headed by the Chairman of the Greater Accra Region in the person of Mathew K. Boadu. I must, however, state that this criminal engagement which appears to have been the norm, has also been the conduit for corruption and the heavily dwindling fortunes of the Convention People's Party and it must be stopped," Mr Tano said.

According to the release, the party's Central Committee, in line with Article 71 of its constitution, is vested with the powers to "consider and approve the names of candidates submitted for election to parliament" and in the event that it rejects a candidate, the matter is referred to the constituency in question to "elect a new candidate".

In reference to the candidature of Mr Gye Nyame, the executives wondered at which time his name was submitted by the constituency to the regional office of the party and onwards to the Central Committee. They also demanded to know which constituency executives endorsed the forms of that said candidate and whether he had attended any meetings in the constituency in the last eight years.
The constituency executives said they were convinced the said candidate would not be able to answer the questions they were posing and, therefore, would not recognise him as a candidate approved by the constituency executives.

The statement continued: "The constituency, therefore, urges the entire populace of Ayawaso Central to note at first hand that the said candidate on the ticket of the Convention People's Party is an impostor and a corrupt individual who has joined forces with equally corrupt officials to ruin the fortunes of the party.

"We urge the electorate in Ayawaso Central not to vote for anybody standing or contesting as a parliamentary candidate on the ticket of the CPP.

"The said candidate should be treated as a fraudster who has equally joined forces with fraudsters within the region to tarnish the image of the party."