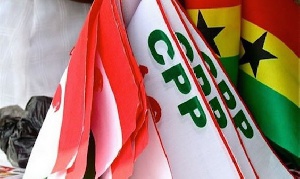 The Convention People's Party (CPP) connived with Ghana's Electoral Commission before the party was allowed to contest in the December 7, 2016 general elections, the party's suspended acting general secretary has claimed.
There were indications the party was going to be disqualified from contesting this year's presidential and parliamentary elections after it failed to satisfy all the legal requirements regarding the December 7 polls.

It had by 12:00 noon on October 10, 2016 when processes to accept the fees had closed, failed to present a bank draft of GHC50,000 for its presidential nominee and GHC10,000 each for all its parliamentary nominees.

Chairman of the party, Prof. Edmund Delle had gone to the EC's headquarters ahead of the deadline to inform the Chairperson of the EC that the party officials were still going through processes to get the bank draft for onward submission to the Commission.

By 12:00 noon when the EC chairperson, Ms Charlotte Osei declared the processes closed, party officials had still not showed up with the bank drafts.
Officials of the EC then went into a meeting to decide whether to accept the bank drafts of the party should it present it later on.

A decision was reached by the EC officials to accept the fees when it was later presented. But according to the suspended acting General Secretary of the CPP, Yaw Assani Tannoh, on Friday said on Onua FM's Ghana Dadwene that he was surprised that the EC officials accepted the nomination of the party.

"I was surprised CPP was allowed to contest the 2016 elections because the Professor [National Chairman, Prof Edmond Delle] went to the EC without cheque at the dire minute of the day of filling nominations forms" he said. He alleged that "looking at the deadline for the filling of the nominations, there was no way the CPP would have been allowed to file if the system was transparent".