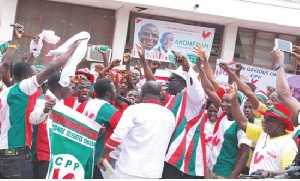 The youth wing of the Convention People's Party (CPP), which is up against the party's leadership, has cast doubt over the party's chances of winning this year's general elections.
According to the Youth League, the actions of the party's presidential candidate, Ivor Kobina Greenstreet and the Central Committee do not in any way demonstrate the party is poised for electoral fortune in the December 7 elections.

"We've been doing all the work to attract support for the party but from the action and position of the flag-bearer and some members of the Central Committee, we doubt if they really want to win the elections in December 2016," Spokesperson for the group, Jason Tutu told 3FM.

The youth wing of the party has been battling the leadership over the suspension of the party's general secretary and national youth organizer, Nii Armah Akomfrah and Ernesto Yeboah respectively.

They have again been demanding that the party's running mate, Nana Gabby Nsiah Nketia, who publicly said he still holds a New Patriotic Party membership, be dropped.

Speaking to 3FM's Mercydalyne Lokko Monday, Mr Tutu said the youth of the party does not succumb to individuals but the values enshrined in the party's constitution.

"We're doing what the constitution of the party enjoins us to do, so whether it is Greenstreet or whoever that becomes the flag-bearer, that work we must keep on doing," he said.
He noted that the aim of every political party is to win political power but said it is worrying that the work being done by the Youth League to win votes for the party is not being supported by Mr Greenstreet.

"That is why it becomes worrying when all our work are not being enhanced by the flag-beraer who is supposed to benefit from this work but of course, the CPP is not only limited to election 2016," he stated.

Mr Tutu said there will be better days ahead for the party, saying "We are very positive that our work will accrue much more benefit after this election, even if the current flagbearer is not able to position himself to benefit from our effort"

He wondered why any electorate will vote for a party he said "endorses corruption" and punish those who speak against corruption, noting "Our flag-beraer and some members of leadership have done that.

"All those action do not show any seriousness to attract votes from the larger masses of Ghanaians who are continuously becoming floating voters because they are losing confidence in the other major political parties," he said.