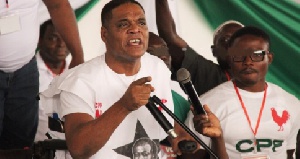 The Convention People's Party (CPP) says it will offer hope to Ghanaians who are in despair when given the nod to govern this country in the December 7 polls.
Outlining some policies in the party's yet-to-be launched manifesto, the National Chairman and Leader of the party, Professor Edmund N. Delle said that the CPP's policies will bring economic relief to majority of Ghanaians.

For instance, on the issue of health, he said, the CPP will formulate a health policy that will be multi-sectoral, comprising the Ministry of Health (for health care), Ministry of Food and Agriculture (for nutrition), Ministry of Sports (for fitness) and the Ministry of Local Government and Rural Development (for sanitation), among others.

"Our overriding aim will be to reduce inequalities in standards of health care for all who need it", the veteran politician said.

He mentioned that the party, when it forms the next government come December 7, will among other things on health, give priority to improving the primary health care services, especially in the deprived communities in the inner cities and continue to improve the ante-natal and maternity services and develop child health services.

Prof Delle also pointed out that priority will be given to the community health system so as to ensure that there are enough facilities to operate.
Still on health, Prof Delle, a Dermatologist, said a CPP government will take a major public stake in the pharmaceutical industry.

That, he explained, will focus on the production of drugs at affordable prices to fight the most prevalent diseases.

Concerning affordable housing, the CPP, he said will make both home owners and tenants a priority.

According to him, the party will work with the Building and Road Research Institute, the Ghana Real Estate Developers Association (GREDA) and other stakeholders in the housing industry to provide low-cost technologies for building high-quality and high-capacity homes and apartments across the country.

He added that the manifesto will promote the development of the mortgage industry to increase the rate of home ownership.