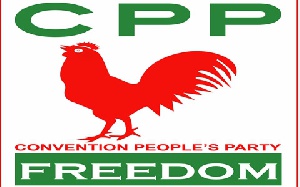 Tue, 29 Nov 2016 Source: GNA
The Convention People's Party (CPP) says it is certain of winning at least five parliamentary seats in the Central Region in the December 7 Polls.
Mr Ato MacClean, the CPP Regional General Secretary, speaking in an interview with the Ghana News Agency (GNA), said the Party was adequately prepared for the challenge and he would leave no stone unturned to achieve it.

Mr Maclean, however, declined to mention the targeted constituencies with the notion that certain political parties may capitalise on it to invest more resources into those areas.

Dr Papa Kwesi Nduom, in 2004, won the only seat the CPP ever had in the Komenda-Edina-Eguafo-Abrem (KEEA) Constituency of the Central Region, since the inception of the fourth Republic.

He said the Party had put in place different strategies and adequately resourced its candidates to undertake grassroots engagement to canvass for votes, which would ultimately help them to achieve their target.

"In 2012 there was not much campaign done by the CPP but now we have decided to contest vigorously," he said. "This time around, the CPP is not going to allow the other political parties to have a field day."
Though the CPP was not engaged in flamboyant and visible campaigning due to limited resources compared to the other parties, they were engaging voters at the grassroots, he revealed.

Mr MacClean said CPP was promising Ghanaians massive economic transformation based on a programme of social and economic development foundation, using Science and Technology to revolutionise agriculture and industry.

He said the CPP, when given the nod, would transform the economy by investing in Information and Communication Technology (ICT) tools to make it accessible to every Ghanaian.

This, he said, was something no political party was championing and, therefore, urged Ghanaians to vote for the CPP.

He said the CPP would revamp the railway sector and make it more viable, invest in energy and ensure that the issue of load shedding became a thing of the past.
Source: GNA