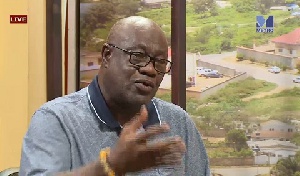 Former Member of Parliament Fritz Baffour has stated that a lot of the people who could have worked better under former President John Mahama were sidelined.
Mr. Fritz Baffour said the structure of the National Democratic Congress (NDC) as a party does not make room for expertise.

"We have to look at the kind of party structure that we have, and the kind of people who man the party structures, the kind of people who man the presidential structure.

"I do not think we worked hard enough to put the structures in place where we use the best of our people to do the work," he stated in an interview on 3FM's Sunrise morning show.

According to the former Information Minister, the NDC lost the 2016 elections because they lost touch with their grassroots supporters.

Asked why a party with a lot of communication experts and a leader – John Mahama – who is also well vexed in the area would fail to effectively communicate and relate with its supporters, Mr. Baffour said it was because most of the people who could work in the interest of the party were sidelined to an extent.

"If you have experienced people, I mean, they do not deliberately sideline them, but the more aggressive a player is, they are the ones who come to the fore, and then it becomes a problem."
The former MP for Ablekuma South Constituency noted that the NDC failed in 2016 to touch base with its supporters, and that affected the party during the elections.

"We fell short, we were overconfident. Infrastructure is not the end of a political thought or success, you have to also engage the people," he emphasized.

Speaking about the way forward for the NDC, Mr. Baffour, who is now the Communications Director for the campaign team of flagbearer aspirant Alban Bagbin, noted that his candidate is coming on board with a lot of potential to secure victory for the NDC in 2020.

He said although many believe former President Mahama has an upper hand in the flagbearership race, Ghanaians want change, hence, his candidate is the preferred choice.

"I do not think it is a done deal, maybe in terms of publicity because he has a lot of exposure. Ghanaians are now hungry for someone who is direct, someone who is accessible, someone who can take decisions, and someone who has experience with dealing with situations that are difficult.

"He is neither intellectually nor socially arrogant," he stated.