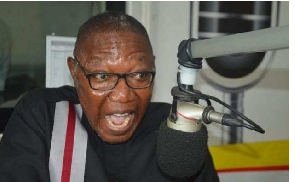 The Member of Parliament for Builsa South Dr. Clement Abas Apaak has opined the directive by President Akufo-Addo to the Auditor-General Daniel Yaw Domelevo to proceed on leave was not surprising.
The legislator says the action was bound to happen because the current administration is uncomfortable with the way the Auditor-General was working.

Dr. Apaak in a statement said it would been rather surprising if the president had asked the Auditor-General to continue working.

The Auditor-General Daniel Domelevo was asked to proceed on leave by President Akufo-Addo.

A statement signed by the Director of Communications at the Presidency, Eugene Arhin said since his appointment on December 30, 2016, he has taken only 9 working days of his accumulated annual leave.

The statement said the President's decision to direct Mr Domelevo to take his accumulated leave is based on sections 20(1) and 31 of the Labour Act, 2003 (Act 651), which apply to all workers, including public office holders such as the Auditor-General. According to the Act, a worker is entitled to annual leave with full pay, in a calendar year of continuous service, which cannot be relinquished or forgone by a worker or the employer.
But Dr. Apaak says the directive was no news because the government had it planned.

Read his full statement below

Folks, Kai! Anyone interested in fighting corruption would have begged Domelevo to continue even if he had decided to leave.

But herh, the Clearing Agent moved to get him out. I've authored many articles on Domelevo and the Nana Addo led NPP government. The President and his men have NEVER been comfortable with Domelevo because of his bold and fearlessness in executing his mandate granted him by the constitution of the Republic of Ghana.

All the big english in the letter from the presidency to Domelevo to proceed on leave is to get him off the back of the Nana Addo led corrupt government.
Many of us saw it coming, this is no news. It would have been news if the President had asked him to stay and had given Domelevo an extension as he has done for others.

Indeed corruption is fighting Ghana under the watch of the so-called incorruptible President.

I remain a citizen!

Dr. Clement Apaak M.P, Builsa South