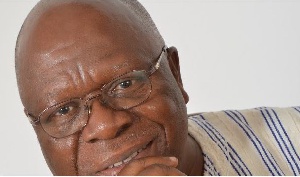 Mr Dan Abodakpi, aspiring National Chairman of the National Democratic Congress (NDC) on Wednesday filed his nomination papers at the party head office with the firm conviction of securing victory to effectively lead the party to rebuild and regain power.
The former Ambassador to Malaysia, expressed optimism of victory, which according to him, would signify the much awaited turning point towards rebuilding the party through upholding its valued principles.

With his campaign theme as: "Heal, Unite, Reconnect, Restore," Mr Abodakpi said the NDC can only be rebuilt when the hurts of members are healed to ensure unity, while the party has to reconnect to its mass grassroots base to regain and restore its real identity and fortunes.

The nomination forms was filed on behalf of Mr Abodakpi, by his Campaign team.

In a brief speech read on his behalf by the campaign team, Mr Abodakpi said "I am confident that I have what it takes to lead the party through this vital rebuilding exercise and to secure victory in 2020".

The former Minister of Trade and Industry, and former Member of Parliament for Keta said his election will represent a new hope for the party to mobilise and reconnect to its members, and galvanise for the progress of the party.
Mr. Joe Gidisu, a Former Minister of Roads and Highways and MP for Central Tongu, who led the campaign team, presented the forms to Mr. Justice Affum, a member of the NDC National Election Department.

Mr Gidisu, told journalists that Mr. Abodakpi is a unifier and a visionary, who has the ability and zeal to unite all the fashions in the party to work together with a firm purpose to promote the interests and welfare of the NDC.

Apart from his vision to heal, unite, reconnect and restore the fortunes of the party, Mr Gidisu said Mr. Abodakpi aims at building a party that is able to guide its government in enhancing the welfare of Ghanaians to give true meaning to the character of the NDC as a social democratic party.

Mr Bill Boglo, Campaign Coordinator for Mr Abodakpi, urged members of the party, particularly constituency and regional executives, to support the candidature of the former Trade Minister towards reviving the party because victory beckons.