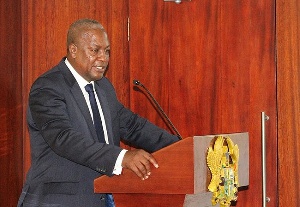 Former President John Mahama has urged flagbearer-hopefuls of the opposition National Democratic Congress to be confident and defend his records because they will have to run on it come the next election.
He said the party is stuck with his records as they prepare for the 2020 polls whether they like it or not.

Addressing members of the party who served in his administration, Mr. Mahama said the party must focus and stand in unity in opposition.

"I think that we were effective in virtually every sector of the economy which we operated. And I think that we left quiet a legacy for the country and shouldn't feel ashamed or have our heads bowed in anyway.
"Let's continue to defend that legacy and that records because it's the same legacy we will run on in 2020 whether you like me or not. Whether you like professor Mills or not; it is that term of office that we will run on. And so we must defend it even during this period," he said.

The former president has also accepted blame for the defeat of the party in the 2016 polls.

"The cause of our loss is multifaceted…of course, as the General who led us into battle, I take ultimate responsibility for our losing the election, and so if it will satisfy those people, blame me for the loss".