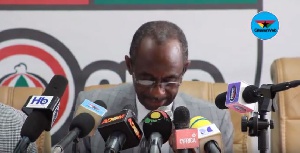 General Secretary of the opposition National Democratic Congress (NDC) Johnson Asiedu Nketia is urging the youth of the party to form more vigilante groups to defend themselves.
According to him, since the Police and the Akufo-Addo government have decided not to act whenever NDC members are attacked, it is common sense that members of the party provide their own security adding that "self-preservation is the first law of nature".

Lately there has been an emergence of vigilante groups within the NDC party. Groups like Hawks has been formed in the Ashanti Region, 'the Dragons' based in the Brong Ahafo region and 'The Lions' based in the Eastern region.

Asiedu Nketia who claims to have once been attacked by NPP vigilante group in Somanya in the Eastern Region told Okay FM on Monday that, "although the NDC party has not formed any such groups he will gladly give his blessings once they are formed."

"I'm not the one forming NDC vigilante groups, but if the group is formed and I'm informed about it, I fully give my blessings. Because as a leader of the party I'm unable to protect any member, when youth of the party go about their legitimate duties and are beaten up, the Police refuse to act. So if they tell me they are forming vigilante groups to protect themselves, how can I kick against it. If they disband the groups and they are attacked how do they defend themselves?
"Even me as the General Secretary of the largest opposition party was once attacked while on the road, the police did nothing about it till date, our MP was recently attacked, the police has done nothing about it. I need the NDC youth to form vigilante groups so that whenever I'm attacked I can call on them to come to my defence or rescue."