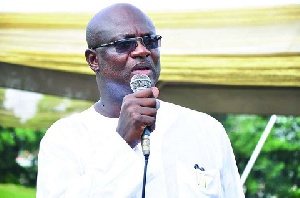 A die-hard supporter of the National Democratic Congress (NDC), Appiah Stadium has expressed disappointment over Mr. Kojo Bonsu's decision to contest for the flagbearer position of the party saying he is not the only person in pain over ill-treatment in the party.
Mr. Kojo Bonsu, Former Mayor of Kumasi Metropolitan Assembly (KMA) ditched the camp of Former President John Dramani Mahama and put himself up for elections to lead his party NDC in the 2020 general elections.

Mr. Kojo Bonsu was one of the key members of the NDC who pushed for the second coming of John Mahama through its Unity Walks among others.

He led and organized the party's walks throughout the country in a bid to sell John Mahama to the people of Ghana for the next elections though he has since denied that was the underlining factor.

However, an unconfirmed source indicates that Mr. Kojo Bonsu is peeved up as he was expecting the former president to name him as a running mate and a key member of his campaign team.

MyNewsGh.com however gathers that former President John Dramani Mahama is considering his former Chief of Staff Prosper K. Bani as running mate other than Kojo Bonso a move that is said to have further ignited his anger.

But Appiah Stadium speaking in an interview with Angel Fm in Kumasi stressed that Mr. Kojo Bonsu must stop claiming he has not been treated fairly by the former president because he had a position under Mahama's government as KMA Boss with other things and that should be enough.
"Considering the total number of people in the NDC, you should be grateful you (Kojo Bonsu) got the opportunity to be the boss of KMA", he told Kwame Tanko on the show monitored by MyNewsGH.com's Syxtus Eshun.

"Are you the only one who has suffered in the NDC? There is no single person who has not suffered" Appiah Stadium added.

Appiah Stadium also alleged that Kojo Bonsu as former KMA boss secured stores for his sisters.

Mr. Kojo Bonsu is expected to meet the media to make his ambition clear today but Appiah Stadium says he will come out with more secrets after the encounter.