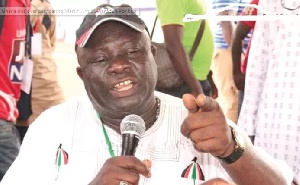 Former Municipal Chief executive (MCE) of Ejisu Juaben municipality, Afrifa Yamoah Ponko has warned the opposition NDC not to underrate the Ashanti regional chairman of the ruling New Patriotic Party (NPP) Bernard Antwi Boasiako when it comes to political strategies.
The NPP Chairman popularly known as Chairman "Wontumi" has revealed that he sponsored the defeat of NDC Member of Parliament for Kumbugu constituency in the Northern region Ras Mubarak during the party's primaries last week.

Responding to Wontumi's claim, Mr Yamoah Ponkoh said the NDC must take the former's claim seriously.
"I'm worried our people see Wontumi as a joke, they have no idea of what the young rich guy can do with money. He Wontumi facilitated the removal of Kojo Bonsu in KMA and also made sure the assembly members of Ejusu Juaben oppose my second appointment as Municipal Chief Executive by former president John Dramani Mahama. Must we joke with such a person" he asked?

He added "the responsibility of a working regional chairman is to mount political strategies to cripple his opposition and that is exactly what Wontumi is doing with the NPP in the region," he said.