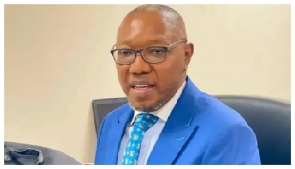 Dr. Clement Apaak, the Member of Parliament for Builsa South Constituency, has criticized Dr. Mahamadu Bawumia, branding him as a chronic liar who consistently misleads the Ghanaian public.
In a Twitter post, Dr. Apaak stated that Bawumia's claims about the economy and his digitalization agenda are far from the truth, emphasizing the importance of directly confronting him.

His remarks were in response to Dr. Bawumia's recent speech at a rally in Kumawu, where he criticized the National Democratic Congress (NDC) and suggested that they had achieved very little for the country. Bawumia specifically highlighted the infamous Guinea Fowl saga, insinuating that the NDC had prioritized trivial matters over meaningful development projects.

According to Dr. Apaak, Bawumia seems to excel in spreading falsehoods rather than demonstrating a deep understanding of the economy or effectively implementing digitalization initiatives.

He further pledged to challenge Bawumia's lies and expose them at every available opportunity.

"Dr. Bawumia is a chronic liar and must be told so to his face. His area of expertise is lies, not the economy or digitization. Let the lying one be told that we will call him out at every opportunity. Not this time bro, you won't get away with lies, I promise you!" he said on May 22, 2023.
Vice President Mahamudu Bawumia visited the Kumawu Constituency on Sunday for the New Patriotic Party's final rally before the May 23 by-election.

During his speech to the enthusiastic crowd, he took aim at the main opposition National Democratic Congress (NDC), describing them as a backward party that does not deserve votes at the parliamentary or presidential levels.

He specifically made two claims about guinea fowls and the NDC's track record in building factories, which the party has refuted, labeling them as lies.

What did Bawumia say?

"The NDC is roaming about, asking us to vote for their candidate. Do they think we have forgotten about them or that we don't think?
"Do you remember that during the NDC era, we suffered from 'sumsum' and 'dumsor' for four years? Is that not the case? Do you want us to go back to 'dumsor' again?

"Or do you want him to go and retrieve the missing guinea fowls that supposedly escaped to Burkina Faso? During their time in office, the NDC established only two factories. We have established over 150."


Dr. Bawumia is a chronic liar and must be told so to his face. His area of expertise is lies not the economy or digitization. Let the lying one be told that we will call him out at every opportunity. Not this time bro, you won't get away with lies, I promise you! https://t.co/GWttSH3ZZv

— Dr. Clement Abas Apaak (@DrApaak) May 22, 2023
You can also watch the latest episode of People & Places here


Meanwhile, watch the latest episode of SayItLoud on GhanaWeb TV below:





Watch the latest episode of Nkommo Wo Ho below:


AM/GA