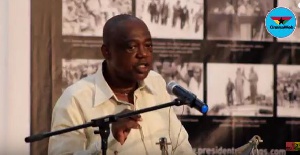 The race for the National Chairmanship of the opposition National Democratic Congress (NDC) is getting keener by the day as a Former Minister for Defense and Interior under the previous administration, Dr Benjamin Kumbour is lacing his boots to join.
Sources close to him confided in mynewsgh.com that Dr Kumbour is set to contest as National Chairman of the party when nominations are open in the immediate future and there is reversal to his decision.

Dr Kumbour who also served as lawmaker for Lawra-Nandom before it was split forcing him to cede the Lawra part to another candidate it has been established, is back at the Ghana Law School as a Senior Lecturer; a place he was before entering mainstream politics.

This was after his decision not to contest the Nandom seat in the 2016 elections which was won by current Minister of Interior Ambrose P. Dery on the ticket of the New Patriotic Party (NPP).

A source close to the former Minister and a member of his campaign team, disclosed to mynewsgh.com that the country's experienced former lawmaker is the man to make a difference for many teeming party faithful.

"He will serve as a bridge between the old and new. He will be the pillar linking the old NDC and the new NDC", he disclosed.
According to him, the team is currently preparing to officially outdoor Dr Benjamin Kumbour he described as visionary who can give a better leadership capable of stemming the apathy within the rank and file of the party.

"His inclusion certainly will bring renew zeal and vigor to the NDC Chairmanship title race. Friends of Kumbour across the country are excited at this news and are lacing their boots for a door- to-door campaign to ensure he is the next NDC Chairman", he revealed.

Other names picked up by this source for the top position include the General Secretary of the party Asiedu Nketia, Betty Mould Iddrisu, Alhaji Hudu Yahaya, Prof. Kwesi Botchwey among others.